Image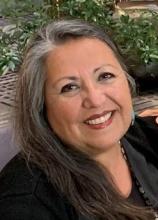 JanMarie Ward (Chumash), MPA, is a lineal descendant of Santa Ynez and Barbareño, California Mission Indians. JanMarie is the director/principal of Seven Generations Strategies LLC and serves as a senior public health policy and project advisor/consultant to the American Indian Health Commission (AIHC) for Washington State. She brings an understanding of evidence-based public health from working with tribal communities and over 40 years of public sector experience in health policy, public administration, and tribal and intergovernmental affairs. Her experience includes development of models and curriculum to support culturally grounded strategic thinking and program development. In partnership with tribal leadership, tribal health programs, and community members, she has helped create Native approaches to public health work that draw on unique cultural resources, community vision, and the engagement of tribal elected officials.  Her efforts in public health focus on a spectrum of issues across all phases of life through a social justice and equity lens and the development of trauma-informed systems and practices.
As a certified master trainer in Neuroscience, Epigenetics, Adverse Childhood Experience, and Resilience, JanMarie applies an indigenous perspective and a historical and cultural context as a path to healing through acknowledgment of intergenerational core strengths and self-determination.  She earned a master's degree from The Evergreen State College, Master of Public Administration with a concentration in Tribal Governance-management, policy, and leadership for Indigenous organizations. She has also served as adjunct faculty at The Evergreen State College in the Master of Public Administration program in both the general and Tribal cohorts.
JanMarie serves on the boards of Group Health Foundation, Community Advisory of University of Washington's Health Promotion Research Center, Washington State Public Health Association, Washington State Governor's Health Disparities Council, and the Wishtoyo Chumash Foundation. She also serves on multiple committees to address systemic racism and historic inequities in support of community-driven capacity building in health and wellness systems change for American Indian and Alaska Native and BIPOC communities. Together, Jan and her husband Roger, have four grown sons, their partners, and their first grandchild.
the American Indian Health Commission (Alternate Rep.)
MPA