Image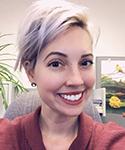 Rian Sallee is the Vancouver Field Office Director for the Department of Ecology.
Rian is responsible for building and maintaining relationships with local partners and managing the field office. She also works with Ecology's Environmental Justice (EJ) Coordinator on agency EJ policy and initiatives. Rian serves as an alternate on the Lower Columbia Estuary Partnership's Board and participates in their Diversity, Equity & Inclusion Steering Team.
She holds a Master of Environmental Science degree from Miami University.
the Department of Ecology (Alternate Rep.)