Image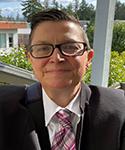 Haley has worked in the behavioral health field since 1996 and is currently the Director of Student Support at the Office of Superintendent of Public Instruction, the primary agency charged with overseeing K-12 public education in Washington State. Student Support at OSPI is a resource for school districts and communities regarding a wide array of nonacademic barriers to learning—from bullying to homelessness. Haley provides strategic leadership to this diverse organizational unit and is responsible for integrating and coordinating a variety of initiatives to assist districts and schools in creating equity, access, and inclusion for students experiencing homelessness, students in the juvenile justice and foster care system, and community learning centers programs.
Growing up in a blue-collar logging town in the Pacific Northwest, Haley was keenly aware of the connections between class and race, power and privilege. As the daughter of a hairdresser and a one-time high school dropout herself, her dreams for her future were limited. Growing up, work ethic was prioritized, while education was never part of equation. She went on to see how access to education and health care created distinct disadvantages for some groups, and privileged other groups. This knowledge led her to a career dedicated to challenging the status quo and creating access and opportunities for under-represented and marginalized children, youth and families.
Before her appointment at OSPI, Haley served as the Executive Director of the Behavioral Health Workforce Collaborative at Washington State University. Her previous experience includes work with the Department of Social and Health Services, Juvenile Rehabilitation Administration and the Division of Behavioral Health and Recovery, and Thurston County Family and Juvenile Courts. Haley has a Master of Arts in Psychology/Systems Counseling and Organizational Development from the Leadership Institute of Seattle. She also holds a Bachelor's degree from The Evergreen State College in Psychology/Sociology.
When at home, Haley is busy exploring hiking trails and doing Stand Up Paddle with her four legged side kick, Gracie Mae. She is also a member of the Heartsparkle Players, a local playback theater troupe that's been performing in Olympia for over 25 years. Playback Theatre is an original form of improvisational theatre in which audience or group members tell stories from their lives and watch them enacted on the spot.
Haley believes in the importance of creating safe and intentional spaces for healing and connection, especially in these times of political and humanitarian crisis, and views playback as a creative way to hold space for this to happen. Haley has called Olympia home since 1980 and enjoys being part of a small, progressive community that values the arts and social justice.
the Office of Superintendent of Public Instruction