Image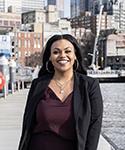 Task Force Manager
Anzhane Slaughter's background stems from law, policy, and community advocacy. She first put advocacy at the epicenter of her work in 2012 when she led an education reform campaign pushing for racial conscious training amongst Seattle Public Schools staff. Later In 2018, she graduated from the University of Washington with a BA in Law.
A bulk of her research was focused on US Policy and Race. Through said research she found that communities of color disproportionately face inequities in almost all political, social and economic systems. The data encouraged Anzhane to dive directly into the field of policy and equity after graduation for an immediate impact. Since then Anzhane has held prominent positions within the social justice community securing government contracts for Minority Owned Businesses, managing political campaigns for State Legislatures, Directing Programs for local Non-profits and uplifting other young leaders through financial and civil literacy.
When Anzhane is not advocating for true justice, she is serving First Time Homebuyers and owners Purchase and Sell Real Estate. In 2018 she passed the Real Estate Exam in Washington State and shortly after received her educator license through the Washington State Housing and Finance Commission. These licenses allow for Anzhane to educate marginalized groups and help bring financial freedom, stability and generational wealth to their communities. Equity and Justice is not a 40-hour paid position to Anzhane. It is evident that she is committed to serving marginalized communities in both her professional and private life.